Hotel Park View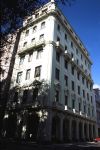 Hotel Description: Inaugurated in 1928, reopens its doors again, enriching the historical surrounding. Park View Hotel was one of the first hotels built with American capital and one of the highest comfort in Havana in the first decades of the 20th century. Located in a privileged position where old and modern Havana get together. Nearby places of interest: Prado Promenade, National Museum of Fine Arts, Museum of the Revolution, San Salvador de La Punta Fortress, Church of the Holy Guardian Angel, Central Park, restaurant El Floridita, National Capitol, Asturian Center, Galician Center-Lorca Theater. Nearest airport: Havanas José Martí International Airport, 20 km./ 12,42 miles. Park View - Hotel Modalities: Budget, City, Historic.
Hotel Park View - Hotel Details:
Address: Calle Colón esq. a Morro. Ciudad de La Habana Number of Rooms: 55 Distance to Airport: 20km Breakfast included in price. Property Amenities: Lobby Bar, Parking, Tour Booking Desk, Internet access in the lobby, Lifts, Restaurant. Park View – Room: Standard Room Use of safety deposit box included in price. Air Conditioning, Phone, Satellite TV, Safety Deposit Box, Private Bathroom, Cold & hot water. Check In Time: 12:00PM Check Out Time: 12:00PM. Find our Old Havana's hotels in cuba.
We offer two categories of bookings.

Real Time Instant booking
You will receive an automatic confirmation message from the hotel via Cuba Travel Network. You will be allowed to pay with credit cards. This confirmation message is definite.

Booking on request (price can be negotiated for big discounts)
You will receive an email informing you that our partner travel agency has received your request. Within 48 hours you will receive another email either confirming or cancelling your request.